ESB 2019 in Dresden – Bone regeneration with BS5.1: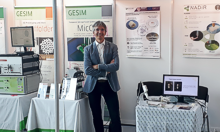 From 9th to 13th September the Annual Conference of the European Societey on Biomaterials attracted scientists from many countries. As an attendee of the European FAST project on bone regeneration GeSiM demonstrated the new BioScaffold printer BS5.1, equipped with a high-temperature syringe extruder and a plasma pen from the project partner Nadir S.r.l. (Italy). Depending on the gas composition the plasma pen is a smooth tool for surface cleaning and activation. Synchronized with BS5.1 the plasma applies to each individual layer of an ongoing 3D print.
Further Nadir S.r.l. is a supplier of customized innovative polymer blends. The supplier offers to blend polymers with specific performance additives for fine tuning of the polymer properties.