Bioinstruments
and
Microfluidics
We make instruments for microarray printing, 3D bioprinting, chemical synthesis, microfluidics and more.

Differently sized motion systems bridge the gap from research to production. All are smart, compact and highly accurate.
Tools delivering liquids, pastes, powders combine with handling tools for tubes and vessels. Tailored solutions are available on request.

Please ask for feasibility tests with your material: Customer service is a priority with us.
Application Spotlights / Customer Projects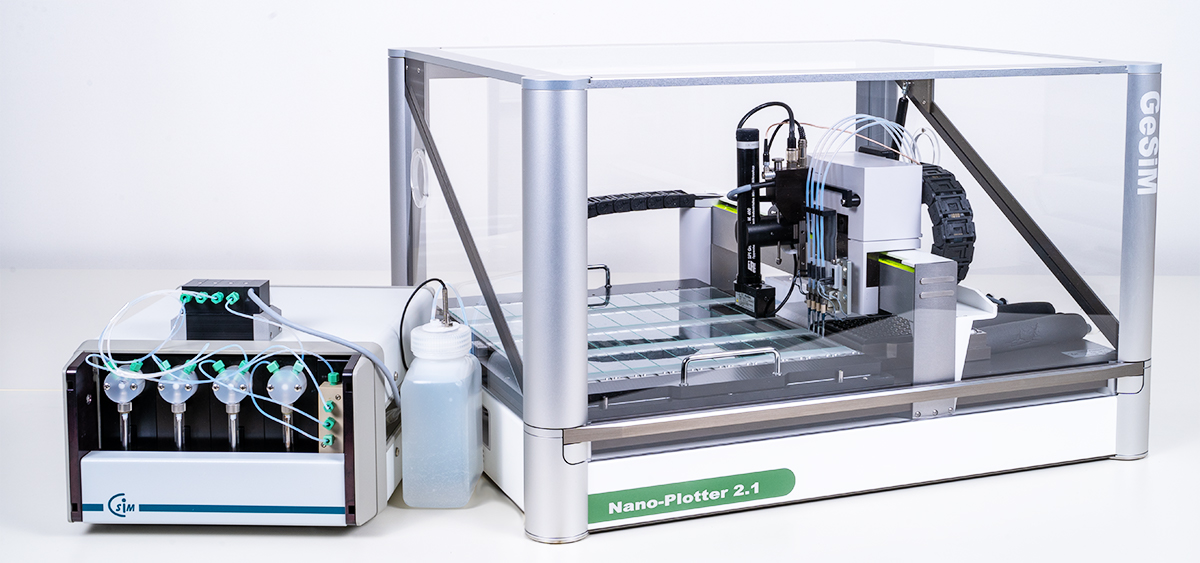 Arraying Applications at a Glance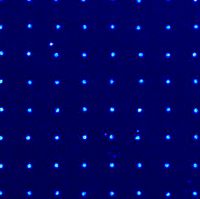 Customer Service is our Highest Priority!
GeSiM microarray printers (Nano-PlotterTM) are available for research and production, combining flexibility, reliability and robustness. Two main instrument lines (NP2.1 and NP7-HV) accompany customers from the first idea to certified production. Pre-sales feasibility tests, tailored instruments and our individual after-sales service will take you to success.
Please contact us for a phone or video conference…
---

DNA Microarrays for IVD and Research
The manufacturing of state-of-the-art multi-parameter diagnostic kits requires more precise liquid handling than ever before. DNA microarrays can be used to detect genetic dispositions for many diseases. The Nano-PlotterTM allows high-dense DNA arrays on glass slides, but prints on NC-membranes and 96well plates too.
A manufacturer of detection kits for (Human Papilloma Viruses) HPV genotypes uses multiple GeSiM microarray printers in their production facility…
---

Microarrays for Immunoassays
Different types of piezoelectric pipets, along with a sophisticated tip wash system, predestine the Nano-PlotterTM for arraying of antibodies, antigens, peptides and other proteins. Protein microarrays are now heart of multi-parameter assays for IVD in clinical use.
Sunlant bioengineering Co., Ltd., developed a specific test kit for the simultaneous detection of several tumour markers…
---

Multiplexed Assays based on 96-Well Plates
96-well plates are popular for drug development and diagnostic assays. Plates with specific coatings allow to print arrays of different biomolecules onto the bottom. All GeSiM Nano-PlotterTM are suited for these applications (E.g. Micro-ELISA); specific piezoelectric pipets with "slim" design allow to print >300 spots per well.
For reproducible results we recommend coated plates with well-defined capability of protein binding…
---

Reverse Phase Protein Arrays (RPPA)
RPPA is a simple, robust and highly parallel assay method for monitoring of protein expression and activation. Instead of antibodies/ antigens, cell lysates will be arrayed on functionalized surfaces.
The whole protein content of the cells will be incubated with specific antibodies to address particular scientific question, e.g. signal pathway alteration due to tumour growth…
---

Loading of Biosensors
Label free detection of biomolecules is an attractive solution for users, but challenges liquid handling technology. Small but exact sample aliquots need to be tethered onto tiny areas of electronic chips. No problem for the Nano-PlotterTM camera system.
This bio-sensor technology was developed at Fraunhofer ISIT…
---

Glycoprotein Arrays
Complementary to the popular antibody arrays, this application uses pre-separated proteins from cellular lysates or other biofluids. The Nano-PlotterTM was used to study post translational modification changes as a function of disease.
This work was conducted by the Lubman Research Laboratory, University of Michigan, Ann Arbor (USA)…
Nanolitre Dosage Applications at a Glance
Dispensing of Adhesives
Heatable piezoelectric dispensers enable micro dosage of Nanolitre volumes of high-viscous adhesives…
---
Collision of Droplets
The high kinetic energy of flying microdroplets supports mixing of mixable liquids when pre-dispensing mixing is not feasible…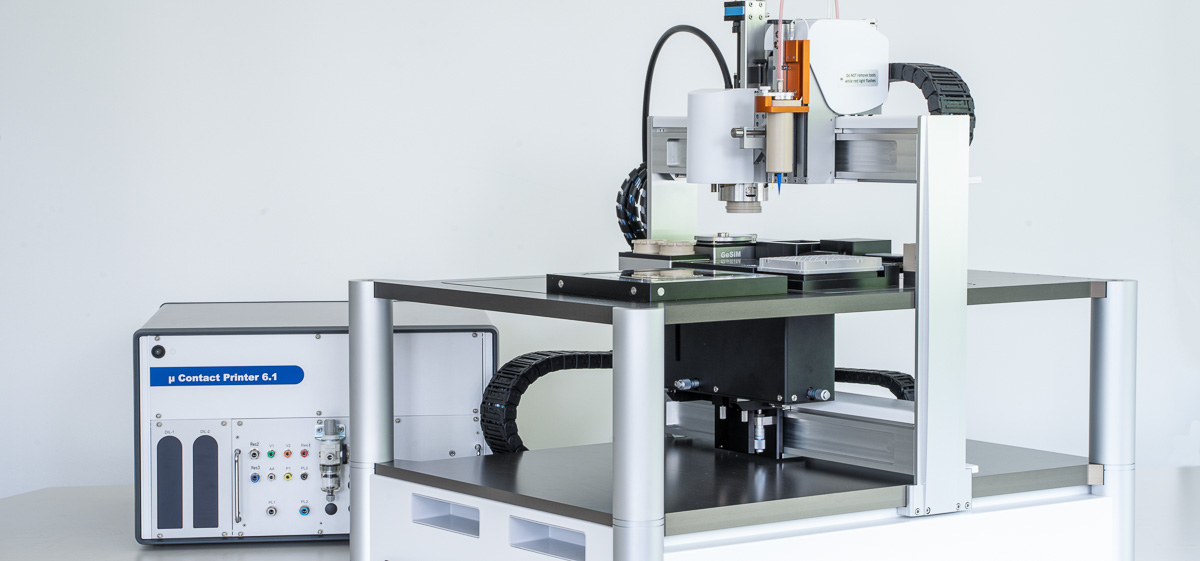 Applications at a Glance
Fibronectin Patterns Printed with µCP
Fibronectin coating is popular to enforce cell adhesion to surfaces. Microcontact printing allows partial and well-defined preparation of surfaces. Here HUCB-NSC were grown on microcontact printed fibronectin squares…
---
Micro Needle Arrays by NIL
High-aspect-ratio 3D objects like micro needles are feasible with the GeSiM micro-contact-printers. Micro needle arrays are a popular research field for alternative subcutaneous drug delivery…
---
Nanoplasmonic Sensor Structure by NIL
The performance of label-free SPR detection can be improved by nano-structured surfaces made by NIL (Nano-Imprint Lithography). This customer project focuses on the design of a waste-water sensor…
---
Picolitre Wells for Cell Biology
NIL with UV-curable adhesives allows the design of Picolitre wells to attract single cells per well…
---
NIL of Micro Wells with Interconnecting Channels
Here NIL shaped microstructures are demonstrated for electrical activity measurement studies. NIL was applied to make both the wells and the interconnecting channels…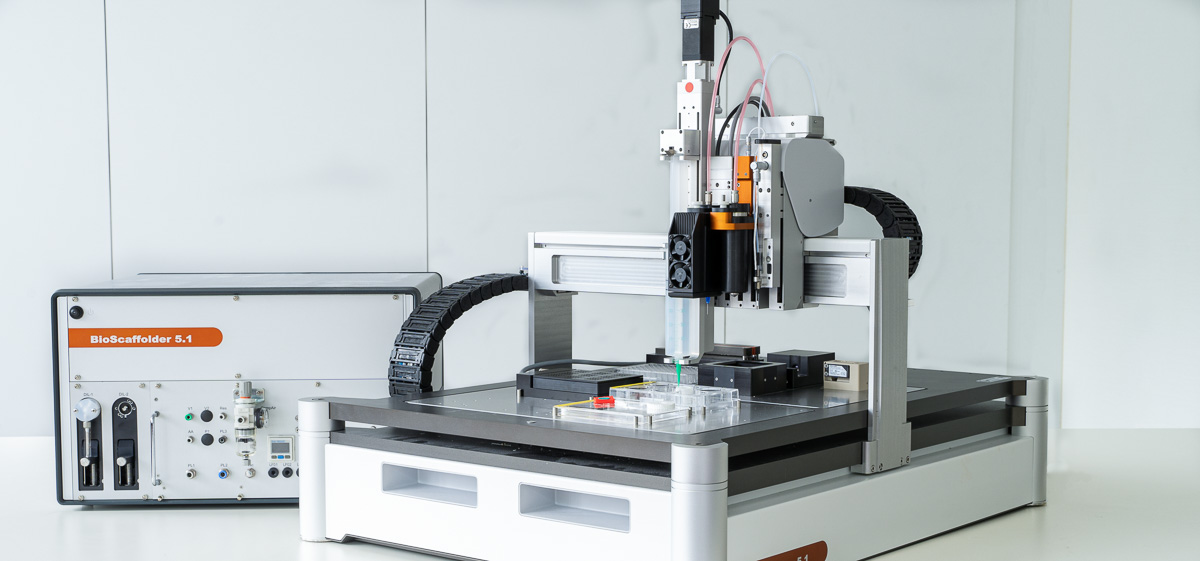 Applications at a Glance
Overview
What are GeSiM bioprinters used for…?
---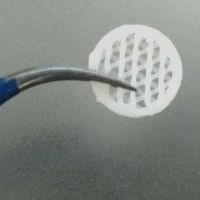 Melt Deposition Modelling of Bioactive Organic/Inorganic Hybrid Scaffolds
Bioactive hybrid materials, e.g. blends of PCL/glass show a great potential to mimic artificial bones. However, Additive Manufacturing (AM) with these materials could be challenging due to difficult physical properties, e.g. viscoelasticity. A team at the LPC (University of Clermont, France) is using the GeSiM HT-extruder on a BioScaffold printer BS3.2 successfully and printed such formulations for the first time accordingly to CAD models…
---