Gold electrode arrays for ELISA-based detection of biomarkers (Campton Diagnostics)
IVD, Chips & Cartridges
Miniaturized cartridges and electronic chips are key components for state-of-the art in vitro diagnostics. The Nano-Plotter adds reagents to complex patterns with special alignment cameras. Click for more info on Nano-Plotter applications. Courtesy of Campton Diagnostics

Nano-PlotterTM: The Versatile Non-Contact Microarray Printer
Platforms / Key Features
The Nano-PlotterTM covers different product lines for liquid handling featuring piezoelectric Nanolitre pipettes. They work with a wide range of (bio-)chemical substances. These drop-on-demand pipettes serve the full volume range from below a few Picolitres up to Microlitres.
The benchtop instruments Nano-Plotter NP2.1 and NP2.1/E are in worldwide use since many years. They are valuable research tools and production horses in the field of diagnostics (IVD) and almost all other branches of chemistry. NP2.1 basic model has a slide capacity of 44 slides but NP2.1/E accommodates up to 96 slides. Alternatively, 6 and 12 SBS well plates fit on the object trays of these instruments.
The Nano-Plotter NP7-HV (High-Volume) is an expandable and scalable mass production unit, available from mid-2021. It consists of NP7 workstations and tray stackers, all arranged in-line for unattended operation with large sets of slides, 96 well plates and other objects. Please subscribe to our Nano-Plotter newsletter for accompanying the launch of this exciting technology.
Numerous add-on modules (See tab ACCESSORIES) are available for each Nano-PlotterTM model. Particular cameras with image analysis software (See tab CAMERA-ALIGNMENT) support the deposition of tiny drops on biosensors, microfluidic cartridges and other patterned surfaces.
Common features of all Nano-Plotter models:
1 to 16 (8 for each NP7-HV workstation) independent piezoelectric pipetting tips in any combination. Post sales upgrade is possible.
Sample aspiration from 96 well or 384 well micro plates
Array density > 3000/cm2
Dust cover (HEPA filter included with all NP7-HV units)
Automatic wash/dry station
Optical function test of each individual pipette tip after sample aspiration
PGlmcmFtZSB3aWR0aD0iNjAwIiBoZWlnaHQ9IjQwMCIgc3JjPSJodHRwczovL3d3dy55b3V0dWJlLW5vY29va2llLmNvbS9lbWJlZC8tWDNCdVNRRGJCUT9hdXRvaGlkZT0yJmF1dG9wbGF5PTAmbXV0ZT0wJmNvbnRyb2xzPTEmZnM9MSZsb29wPTAmbW9kZXN0YnJhbmRpbmc9MCZwbGF5bGlzdD0mcmVsPTAmc2hvd2luZm89MSZ0aGVtZT1kYXJrJndtb2RlPSZwbGF5c2lubGluZT0wIiBmcmFtZWJvcmRlcj0iMCIgYWxsb3dmdWxsc2NyZWVuIGFsbG93PSJhdXRvcGxheTsgZW5jcnlwdGVkLW1lZGlhOyBwaWN0dXJlLWluLXBpY3R1cmUiIHRpdGxlPSIiPjwvaWZyYW1lPg==
Product video of Nano-PlotterTM NP2.1
Each Nano-PlotterTM can be configured to a particular application. And… it can grow! The number of pipetting channels can be upgraded after sales. The workstations in-line with a NP7-HV setup can be extended when production throughput increases.  All GeSiM Nano-Plotter are capable of more than rectangular microarrays: They draw lines on NC membranes, dispense exact volumes into microfluidic cartridges, pipets smallest liquid amounts into wells, offer real-time mixing of tiny drops. The NP7-HV can be equipped with any dispense tool for high-viscous substances known from the GeSiM bioprinters. The BioSyntheSizer contributes with powder dispensers and mechanical handling tools.
Pipet Tools for the Microarray Printer
Each Nano-PlotterTM comes with piezoelectric pipetting tips for the software-controlled deposition of particular drop bursts (From 60 Picolitre). They consist of glass and silicon- valve less and fabricated from micro structured glass/silicon wafers. Mechanical robustness is much better compared to dispensers made from glass capillaries.  Biochemistry and diagnostic applications often require to handle samples with varying consistencies. Piezoelectric pipet tips for different drop volumes and viscosity ranges let your Nano-PlotterTM meet challenging liquid handling tasks in Life Sciences.
Our microarray printers can bridge the gap from Picolitre range (piezoelectric tips) to Microlitre pipetting: Solenoid valve dispensers for drop volumes from 50 Nanolitres draw lines on Nitrocellulose membranes for more traditional point-of-care products. Third party piezoelectric dispense valves accept high- viscous samples like glues and UV-curable resists (2.5D prints for microfluidics and MEMS technology). Positive displacement dispensing delivers Microlitre volumes to cavities/wells. Most of these pipet tools are available with built-in heaters.
Each Nano-PlotterTM offers a so called "Spot-On-the-Fly" mode (SOF) for microarraying applications with single drop per spot position on planar objects. Particularly when processing a large set of identical plain objects (E.g. glass slides) SOF saves up to 50% time compared to the stop-and-go-approach.
Piezoelectric Tips for the Picolitre range
Nano-Tip J:     0.35…0.4 Nanoliter
Nano-Tip A-J: 0.25          Nanoliter
Pico-Tip J:       0.06          Nanoliter
Nano-Tip J-H: 0.35…0.4 Nanoliter (External heater unit required)
Pico-Tip J-H:   0.06          Nanoliter (External heater unit required)
Tips with special design:
Nano-Tip HV-J: For high-viscous samples
Nano-Tip AR-J: Slim design, for array printing into 96-well plates
Solenoid Valve Pipetting Tips (Option):
40…350 Nanolitre drop volume
Affordable glass nozzle for low operational costs
Upgrades available for all Nano-Plotter types
We are open for feasibility tests with your material- please contact us.
Liquid Management for Piezoelectric Tips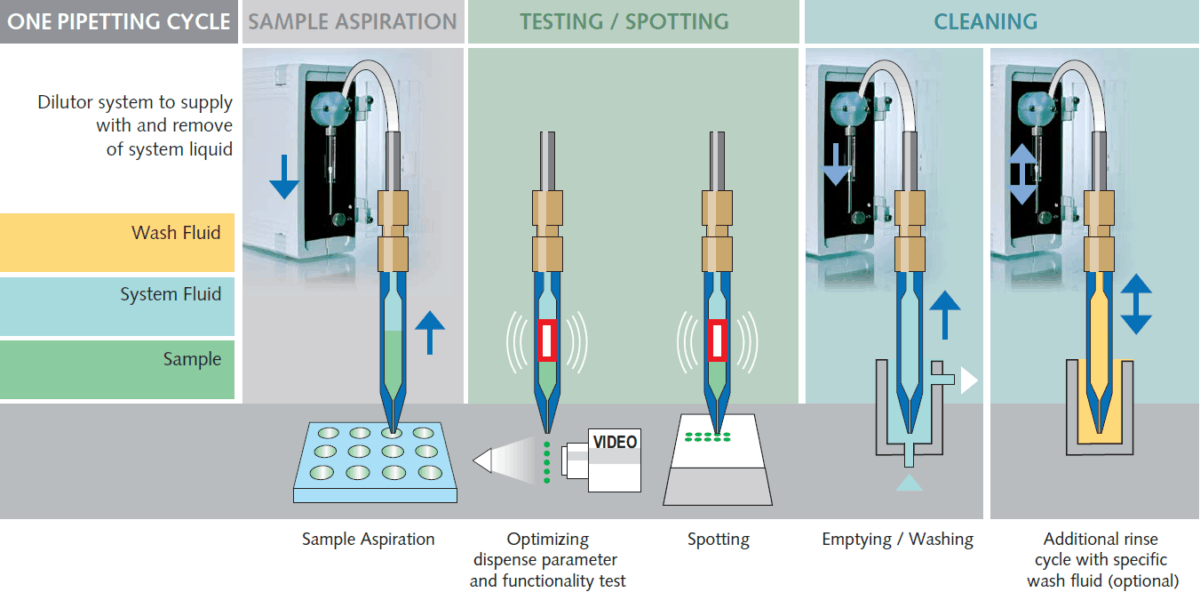 Onboard Tip Monitoring
The Nano-Plotter aspirates from both 96well and 384 well plates. Sample loading is validated by an automatic optical dispense test. A stroboscope camera checks for:
Deflection of the main droplet from the vertical
Droplet size, count and speed
Deviation of satellite drops from the main jet
Print head configurations with multiple tips as well as large sample sets benefit from the onboard tip monitoring. The result of each test is monitored for quality recording and GMP. Optionally microfluidic sensors are available for more accurate drop volume measurement.
---
Each Nano-Plotter configures individually, with one up to sixteen pipet channels in any combination. This tab shows most popular accessories, available as post sales upgrade too. Please contact us for full catalogue with all technical details and specs.
Exchangable Target Trays
For fast and easy replenishment of targets, the Nano-PlotterTM adopts slides, Nitrocellulose membranes, microfluidic chips, 96 well plates and more. The target trays touch down on the instrument surface by a comfortable click-and-go mechanism. Tray surfaces for customized formats are available on request.
Naturally, the performance of the piezoelectric tips is affected by the consistency of the sample. GeSiM developed microfluidic sensors to measure the liquid flow in the fluidic backpath of each channel. The sensors are valuable tools to tune the microarray printer for special liquids and to match drop volumes of multiple tip configurations.
External units for chilling and humidifying allow establishment of conditions close to the dew point. The ultrasonic humidifier connects directly to the hood enclosure of the instrument, thus even microliters of samples can remain on the deck of the instrument with minimum evaporation losses.
Both the coolable base plate underneath the slide tray (Second picture) and the microplate holder (Third picture) connectes to a recirculating chiller to control the temperatures of both the samples and the targets. Thermal coupling between adapter and well plates depends both on the plate model and on the adapter – read our related Application Note.
TwinTip – Pipetting and Mixing of Tiny Droplets
Chemical reactions at a microscale and hardening of two-component systems are just two applications for the TwinTip adapter for the Nano-Plotter. Dispense tips assembled to the TwinTip adapter allows to aspirate tiny volumes of two different species from a standard micro well plate.
The TwinTip adapter accomodates the native GeSiM piezoelectric pipets as well as solenoid dispense valve pipets. Following setups are possible:
Two GeSiM piezoelectric pipets with drop volumes between 60 pL and 400 pL
Two solenoid valve pipets with droplet volume of 50 nL
One GeSiM pipet, one solenoid valve
The TwinTip adapter toggles the pipets between two positions: OPEN (Aspiration/ wash position) and CLOSE (Dispense position). Simultaneous drop release at the CLOSE position leads to a perfect mix up of both drops on the target surface due to the high kinetic energy of the drops.
PGlmcmFtZSB3aWR0aD0iNjAwIiBoZWlnaHQ9IjQwMCIgc3JjPSJodHRwczovL3d3dy55b3V0dWJlLW5vY29va2llLmNvbS9lbWJlZC9jMTdJTmR6b09zMD9hdXRvaGlkZT0yJmF1dG9wbGF5PTAmbXV0ZT0wJmNvbnRyb2xzPTEmZnM9MSZsb29wPTAmbW9kZXN0YnJhbmRpbmc9MCZwbGF5bGlzdD0mcmVsPTAmc2hvd2luZm89MSZ0aGVtZT1kYXJrJndtb2RlPSZwbGF5c2lubGluZT0wIiBmcmFtZWJvcmRlcj0iMCIgYWxsb3dmdWxsc2NyZWVuIGFsbG93PSJhdXRvcGxheTsgZW5jcnlwdGVkLW1lZGlhOyBwaWN0dXJlLWluLXBpY3R1cmUiIHRpdGxlPSIiPjwvaWZyYW1lPg==
More than a Microarrayer – Customized Configurations
Besides array spotting, GeSiM has the flexibility and capability to create custom instruments on request. The Nano-PlotterTM software comes with an open user interface for the development of liquid handling applications by the customer.

Third party dispensers and other tools on the Nano-Plotter print head
In addition, GeSiM develops and delivers OEM Versions of the Nano-PlotterTM to other instrumentation manufacturers.
– Heatable piezodispensers
– Dispensers with reservoir cartridges on top
– Dispensers for high-viscosity media
– Passive Microliter dispensers
– Plate hotel for large samples sets
– Vacuum tweezers
– Wash system for dedicated cleaning solutions
– Print head camera for process observation
As an example, microarray spotting can be accomplished by Microliter liquid handling or manipulation of mechanical parts like glass lids. For manufacturing of a large number of identical arrays with a limited set of samples we recommend piezoelectric tips with an integrated reservoir.
Benchtop lab automation exceeding liquid handling is available with the GeSiM BioSynthesizer.
---
Optical Target Recognition
The typical drop diameter of 50 Microns of the Nano-Plotter piezoelectric tips  is well appropriated to apply Nanolitre amounts of liquid to target structures of similar size. However, nozzle alignment to tiny targets may become challenging.
The Optical Target Recognition system is based on two aligners on each target object. Arbitrary spotting positions can be defined relatively to the aligners. The camera identifies the exact position of the aligners on each individual target and calculates the current coordinates of the dispense positions.
An image analysis software is able to identify aligner patterns like microelectrodes, nanowells and microcantilevers. Alternatively the aligner positions can be determined by mouse click.
Procedure
The following video demonstrates the alignment process for individual piezoelectric tips. Initially a "spotting plan" is required for each target layout.
PGlmcmFtZSB3aWR0aD0iMTI4MCIgaGVpZ2h0PSI3MjAiIHNyYz0iaHR0cHM6Ly93d3cueW91dHViZS1ub2Nvb2tpZS5jb20vZW1iZWQvVzlYeE1Mcm1pQXM/YXV0b2hpZGU9MiZhdXRvcGxheT0wJm11dGU9MCZjb250cm9scz0xJmZzPTEmbG9vcD0wJm1vZGVzdGJyYW5kaW5nPTAmcGxheWxpc3Q9JnJlbD0wJnNob3dpbmZvPTEmdGhlbWU9ZGFyayZ3bW9kZT0mcGxheXNpbmxpbmU9MCIgZnJhbWVib3JkZXI9IjAiIGFsbG93ZnVsbHNjcmVlbiBhbGxvdz0iYXV0b3BsYXk7IGVuY3J5cHRlZC1tZWRpYTsgcGljdHVyZS1pbi1waWN0dXJlIiB0aXRsZT0iIj48L2lmcmFtZT4=
First the XY offset of the camera axis to the drop trajectory of each dispenser has to be determined.
Now the camera travels to each of the two alignment markers on each target. Two pictures are taken of each target substrate.
The software calculates the coordinates for each spot point individually for each target and completes the spotting run without any further user interaction.
---
Customer Service is a Priority with us!

Microarraying applications are rather complex. The result depends on a lot of laboratory steps and many SOPs while all the necessary instruments are expensive.
The GeSiM expertise covers all aspects of liquid handling from the Picolitre to the Microlitre range. We offer free feasibility tests based on your material in order to protect your investment in microarraying equipment. Please request a visit to our premises or a phone/Skype conference to discuss your specific requirements.
If you cannot afford an own microarrayer lab GeSiM offers microarray spotting services to a certain extent. When you decide to buy a Nano-Plotter we accept to meet application specific quality parameters before you accept the instrument. After sales service is a prority with us whenever questions occur.
Our application engineers and sales partners worldwide are happy to receive your requests!
---
Array Based Diagnostics – Multiplexing your Assay
Until now diagnostic kits for blood or patient serum are mostly based on nitrocellulose membrane. The analyte hybridizes against a limited set of test molecules and calibration standards, typically less than five.
By switching to the microarray format much more parameters can be tested. In recent years the Nano-PlotterTM NP2.1 has become a reliable tool for the production of microarrays for diagnostic applications.
The Nano-Plotter removable trays accept any kind of target formats: Slides with and w/o NC pads, NC membranes, sensor chips, microfluidic cartridges and more. Tailored versions of trays are available on request.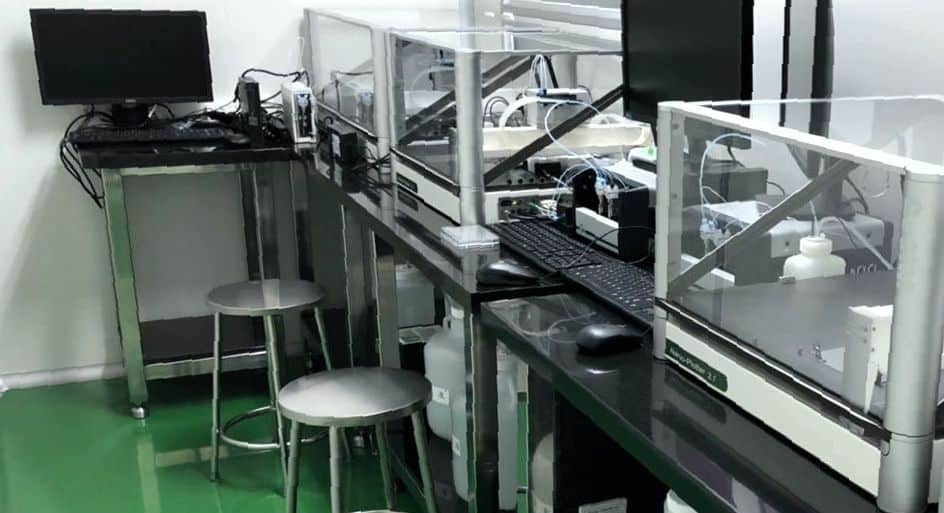 Arrangement of multiple Nano-Plotter NP2.1/E for production of diagnostics (Courtesy of Genentel, PR of China)

---
Multi Parameter Analysis with 96 Well Plates
Nano-Plotter NP2.1 microarrayer can be configured for arraying on the bottom of 96-well microplates. On request special target decks and 2-row print heads are available, matching the 9 mm pitch. GeSiM has developed an optimized piezoelectric pipet (Nano-Tip AR-J) with slimmer design for better access to each individual well. The highest achievable spot density is significantly dependent on sample type and surface properties of the plate.
The plate capacity of the smaller NP2.1 is between six and eight but NP2.1/E accommodates between 12 and 15 plates.
---
DNA and Protein Arraying: One Word on Carryover
Unlike disposable tips, GeSiM pipettes are reused for subsequent samples and therefore require thorough washing. Optimization implies the finding of the smallest wash time at which no contamination is detected.
Dispensing of template DNA into Taq master mixes with subsequent thermocycler treatment revealed five seconds wash time to be sufficient to avoid any carryover.
Proteins are more critical, as they exhibit different solubilities and hydrophilicities. Certain hydrophobic peptides and proteins apparently are not washed away by water alone. In this case, a software function called "extra wash" or a second wash bowl using weak base or detergent must be employed. It is a good habit to perform such an extra wash at least after each run of protein spotting.
Please ask us for more information on this topic.
---
Cell Lysate Microarrays – From Cells to Protein Profiles
The usual microarray uses an arrangement of specific proteins tethered to solid surfaces. The reverse phase protein array (RPPA) does the other way: Microarrays with individual cell lysate spots of a 130 µm diameter, representing 1 to 10 cell equivalents each, are being produced using the robust piezo-electric non-contact deposition method of the Nano-Plotter. Signals are generated by fluorescently labeled specific antibodies. Due to the extremely low sample consumption of the spotting process large numbers of replicate arrays can be produced and thus allow the efficient determination of substantial numbers of proteins.

Scheme of the RPPA microarray process
A highly sensitive optical detection method based on glass chips with linear wave guides was developed by NMI Reutlingen, Bayer Technology Services and other.
Applications:
Identification of disease relevant marker proteins in cultured cells, tissues, micro dissected material as well as depleted serum and urine
Determination of dose efficacy and IC50 of drug candidates
Quantification of cell signalling pathway activation / inhibition with a precision of better than 20%
Monitoring phosphorylation changes on multiple kinases
Information on references is available on request.
More information on this technology ist available from Bayer Technology Services, Leverkusen (German)
---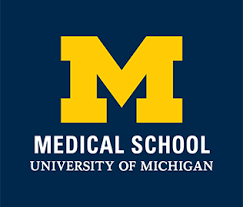 The Nano-Plotter was used to study Post Translational Modification Changes as a Function of Disease (Tasneem et.al.) at the University of Michigan, Medical School.
Background
Complementary to the popular antibody arrays, this application uses pre-separated proteins from cellular lysates or other bio-fluids. The resulting arrays are probed with agents that can specifically detect certain post translational modifications. Differences in modifications between different disease states can therefore be highlighted.
Method
Glycoproteins from serum samples can be enriched and separated by nonporous reversed-phase HPLC. Separated proteins are then arrayed on nitrocellulose slides and probed with multiple types of lectins using a biotin-streptavidin platform to detect glycan structures present in the glycoprotein.
Courtesy of:
Tasneem Patwa
University of Michigan Medical Center, Department of Surgery, MSRB I, A510B
Lubman Research Laboratory
1150 W. Medical Center Drive
Ann Arbor, MI 48109-0650
USA
---
Electrical Biochips – The Comfortable Way of Detecting Biomolecules
The department "Biotechnical Microsystems (BTMS)" of the Fraunhofer ISIT developed an electrical biochip technology without marker based detection. The electrical biochips offer intrinsic advantages because of particle tolerance and mechanical robustness by the direct transduction of biochemical reactions into electrical current. The use of gold electrode arrays combined with integrated reference and auxiliary electrodes along with sensitive, selective measurement techniques like "Redox-Cycling" enables powerful sensor systems. These arrays are useful for the detection of a variety of analytes within one sample simultaneously. User-friendly operability is realized by integrating the biochips into cartridges. In combination with micro-fluidic components and integrated electronics, these electrical microarrays represent the basis of rapid and cost-effective analysis systems. They can be used to identify and quantify DNA, RNA, proteins, whole cells as well as haptens.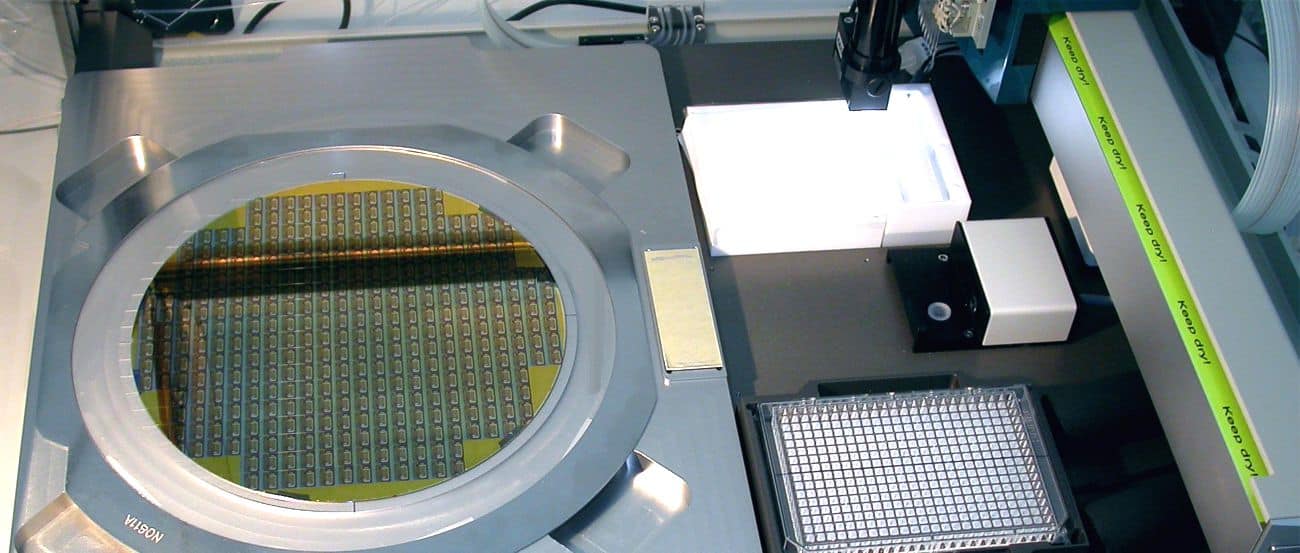 The used array chips consist of 16 gold electrodes for immobilizing capture molecules and the final electrochemical read out. These positions are 350 µm in diameter and therefore the capture molecules have to be deposited position specific by a piezodriven nanodispensing device (GeSiM Nano-Plotter).

  With Courtesy of Dr. Eric Nebling, Campton Diagnostics UG, Fraunhoferstraße 1, 25524 Itzehohe
---