NP2.1: One Platform, Two Sizes



NP7-HV: Modular, Cascadable, Inline
The Nano-PlotterTM NP7-HV fits to microarray core labs and production facilities for diagnostics.









Gold electrode arrays for ELISA-based detection of biomarkers (Campton Diagnostics)
IVD, Chips & Cartridges
Miniaturized cartridges and electronic chips are key components for state-of-the art in vitro diagnostics. The Nano-Plotter adds reagents to complex patterns with special alignment cameras. Click for more info on Nano-Plotter applications. Courtesy of Campton Diagnostics

Nano-PlotterTM: The Versatile Non-Contact Microarray Printers
Platforms NP2.x and NP7-HV
The Nano-PlotterTM covers different product lines for liquid handling featuring piezoelectric Nanolitre pipettes. They work with a wide range of (bio-)chemical substances. These drop-on-demand pipettes serve the full volume range from below a few Picolitres up to Microlitres.
The benchtop instruments Nano-Plotter NP2.1 and NP2.1/E are in worldwide use since many years. They are valuable research tools and production horses in the field of diagnostics (IVD) and almost all other branches of chemistry. NP2.1 basic model has a slide capacity of 44 slides but NP2.1/E accommodates up to 96 slides. Alternatively, 6 and 12 SBS well plates fit on the object trays of these instruments.
The Nano-Plotter NP7-HV (High-Volume) is an expandable and scalable mass production unit, available from mid-2021. It consists of NP7 workstations and tray stackers, all arranged in-line for unattended operation with large sets of slides, 96 well plates and other objects. Please subscribe to our Nano-Plotter newsletter for accompanying the launch of this exciting technology.
Numerous add-on modules (See tab ACCESSORIES) are available for each Nano-PlotterTM model. Particular cameras with image analysis software (See tab CAMERA-ALIGNMENT) support the deposition of tiny drops on biosensors, microfluidic cartridges and other patterned surfaces.
Common features of all Nano-Plotter models:
1 to 16 (8 for each NP7-HV workstation) independent piezoelectric pipetting tips in any combination. Post sales upgrade is possible.
Sample aspiration from 96 well or 384 well micro plates
Array density > 3000/cm2
Dust cover (HEPA filter included with all NP7-HV units)
Automatic wash/dry station
Optical function test of each individual pipette tip after sample aspiration
PGlmcmFtZSB3aWR0aD0iNjAwIiBoZWlnaHQ9IjQwMCIgc3JjPSJodHRwczovL3d3dy55b3V0dWJlLW5vY29va2llLmNvbS9lbWJlZC8tWDNCdVNRRGJCUT8iIGZyYW1lYm9yZGVyPSIwIiBhbGxvd2Z1bGxzY3JlZW4gYWxsb3c9ImF1dG9wbGF5OyBlbmNyeXB0ZWQtbWVkaWE7IHBpY3R1cmUtaW4tcGljdHVyZSIgdGl0bGU9IiI+PC9pZnJhbWU+
Product video of Nano-PlotterTM NP2.1
Each Nano-PlotterTM can be configured to a particular application. And… it can grow! The number of pipetting channels can be upgraded after sales. The workstations in-line with a NP7-HV setup can be extended when production throughput increases.  All GeSiM Nano-PlotterTM are capable of more than rectangular microarrays: They draw lines on NC membranes, dispense exact volumes into microfluidic cartridges, pipets smallest liquid amounts into wells, offer real-time mixing of tiny drops. The NP7-HV can be equipped with any dispense tool for high-viscous substances known from the GeSiM bioprinters. The BioSyntheSizer contributes with powder dispensers and mechanical handling tools.
Pipet Tools for all Microarray Printers
Each Nano-PlotterTM comes with piezoelectric pipetting tips for the software-controlled deposition of particular drop bursts (From 60 Picolitre). They consist of glass and silicon- valve less and fabricated from micro structured glass/silicon wafers. Mechanical robustness is much better compared to dispensers made from glass capillaries.  Biochemistry and diagnostic applications often require to handle samples with varying consistencies. Piezoelectric pipet tips for different drop volumes and viscosity ranges let your Nano-PlotterTM meet challenging liquid handling tasks in Life Sciences.
Our microarray printers can bridge the gap from Picolitre range (piezoelectric tips) to Microlitre pipetting: Solenoid valve dispensers for drop volumes from 50 Nanolitres draw lines on Nitrocellulose membranes for more traditional point-of-care products. Third party piezoelectric dispense valves accept high- viscous samples like glues and UV-curable resists (2.5D prints for microfluidics and MEMS technology). Positive displacement dispensing delivers Microlitre volumes to cavities/wells. Most of these pipet tools are available with built-in heaters.
Each Nano-PlotterTM offers a so called "Spot-On-the-Fly" mode (SOF) for microarraying applications with single drop per spot position on planar objects. Particularly when processing a large set of identical plain objects (E.g. glass slides) SOF saves up to 50% time compared to the stop-and-go-approach.
Piezoelectric Tips for the Picolitre range
Nano-Tip J:     0.35…0.4 Nanoliter
Nano-Tip A-J: 0.25          Nanoliter
Pico-Tip J:       0.06          Nanoliter
Nano-Tip J-H: 0.35…0.4 Nanoliter (External heater unit required)
Pico-Tip J-H:   0.06          Nanoliter (External heater unit required)
Tips with special design:
Nano-Tip HV-J: For high-viscous samples
Nano-Tip AR-J: Slim design, for array printing into 96-well plates
Solenoid Valve Pipetting Tips (Option):
40…350 Nanolitre drop volume
Affordable glass nozzle for low operational costs
Upgrades available for all Nano-Plotter types
Sample Management & Maintenance on Board of a Nano-PlotterTM
All piezoelectric pipet tips aspirate from 96well plates and 384 well plates. The aspiration volume depends on the spotting application, hard- and software of each GeSiM instrument are optimized for automatic sample loading, intermediate washing and final rinsing of the precious micro pipets.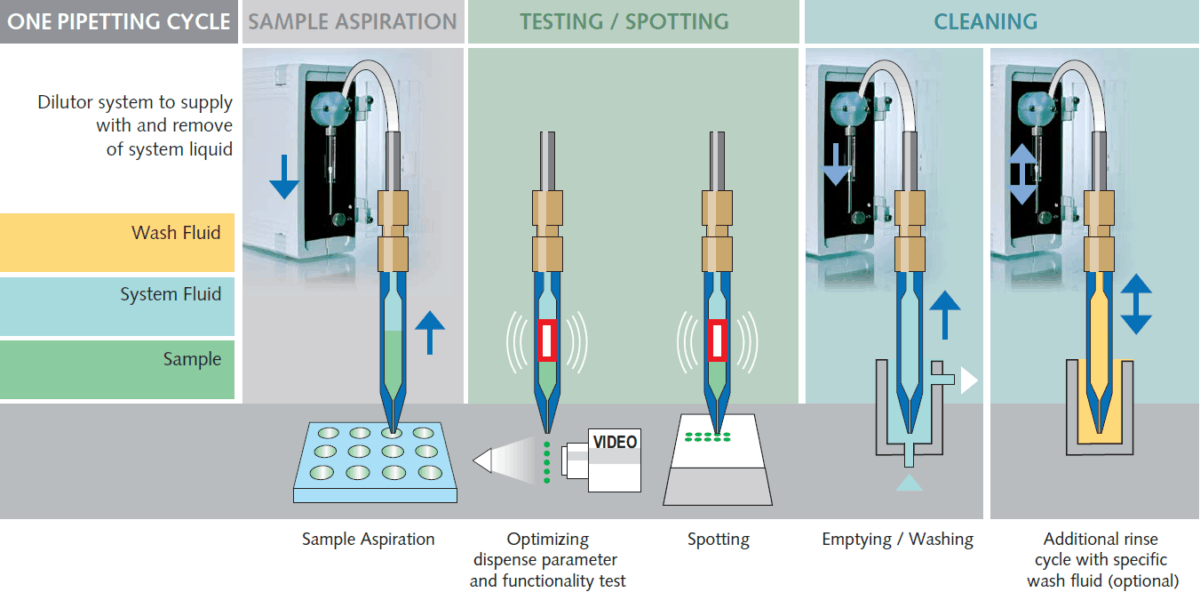 Onboard Tip Monitoring
The Nano-Plotter aspirates from both 96well and 384 well plates. Sample loading is validated by an automatic optical dispense test. A stroboscope camera checks for:
Deflection of the main droplet from the vertical
Droplet size, count and speed
Deviation of satellite drops from the main jet
Print head configurations with multiple tips as well as large sample sets benefit from the onboard tip monitoring. The result of each test is monitored for quality recording and GMP. Optionally microfluidic sensors are available for more accurate drop volume measurement.
The Tip Wash System of the Nano-Plotter
Unlike disposable tips, GeSiM pipettes are reused for subsequent samples and therefore require thorough washing. Optimization implies the finding of the smallest wash time at which no contamination is detected.
Dispensing of template DNA into Taq master mixes with subsequent thermocycler treatment revealed five seconds wash time to be sufficient to avoid any carryover.
Proteins are more critical, as they exhibit different solubilities and hydrophilicities. Certain hydrophobic peptides and proteins apparently are not washed away by water alone. In this case, a software function called "extra wash" or a second wash bowl using weak base or detergent must be employed. It is a good habit to perform such an extra wash at least after each run of protein spotting.
Organic solvents, aspirated from dedicated reservoirs, ensure the complete wash-off of polymer solutions from the piezoelectric tips.
Please ask us for more information on this topic.
---
Tools & Trays: Flexibility for changing Requirements
Each Nano-PlotterTM NP2.x configures individually, with one up to sixteen pipet channels in any combination. NP2.x instruments are optimized for low-viscous samples and Pico-/Nanolitre range.
The ground-borne NP7-HV runs up to eight piezoelectric nozzles on each workstation. The tool heads of these workstations also adapt (heatable) pneumatic extruders, tip ejectors for displacement pipets, powder dispensers, vial handlers and much more.
Climatization matters, specifically for low-volume liquid handling. With our accessory lines humidity and temperature can be set for the chamber of each Nano-PlotterTM.
Please contact us for full catalogue with all technical details and specs.
Exchangable Target Trays
For fast and easy replenishment of targets, the Nano-PlotterTM adopts slides, Nitrocellulose membranes, microfluidic chips, 96 well plates and more. The target trays touch down on the instrument surface by a comfortable cl